The WISA 2020 Organising Committee are in the process of investigating the options available to run the technical tours. Details will be available early September 2020.
Hartebeespoort Dam
Tour of the Hartbeespoort Dam for presentation and tour of strategic interventions by the Department of Water and Sanitation to rehabilitate the dam.
These initiatives include:
Driving floats to neutralise eutrophication
Compositing of hyacinth into organic fertiliser
Controlled growth and removal of hyacinth to facilitate nutrient removal and control cyanobacteria
Community initiatives
Visit the new Cradle Moon Conservancy at the Heia Safari Lodge to view one of the largest hand-build stone dams in South Africa. The dam wall stands 20m high, is 300m wide, and just short of 10m thick at the base. Although all the stones used during the construction were found on site, at least 50 000 bags of cement were used to keep them in place.
Take a boat trip on the dam, enjoy cocktails and discuss its status as strategic reference of all upstream activities (Agriculture, mining, municipal services, etc.) of head waters of Crocodile Dam.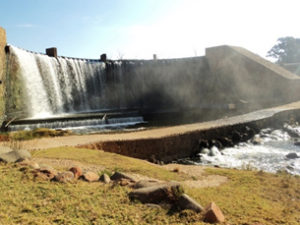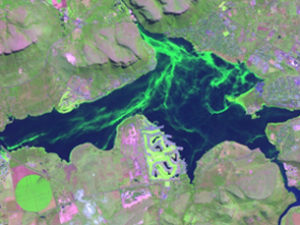 Objective
To view 1st hand the impact of high nutrient discharges to a water body and strategic interventions to address this issue.
Cost
Lunch – as per program submitted by Petrus Venter, please make bookings and confirm cost.
Heia Safari Boat ride
2-10 Guests – R 190.00 per person (Min of 4 guest)
11 -24 Guests – R 155.00 per person
R30p/p additional conservancy fees
Drinks and snacks for cruise at own expense; can be pre-ordered
Accommodation available at R1195.00 p/p bed and breakfast, game drives R 315- R380
Route & Time Allocation
Depart ICC to Hartbeespoort Dam: 8h30 – 9h45 (1.5 hrs)
Presentation at Communication Centre by Petrus Venter (DWS), tour around dam and lunch – see attached detailed program with lunch venue.
Depart for Heia Safari: 14h30- 15h10 (40mins)
Boat ride + presentation on dam and impact of upstream activities: 15h20 – 16h30 (70 mins) – includes one drink and snacks, option to buy additional drinks on board.
Depart for ICC 16h30: 17h30 (1hr)
Advanced New Laboratory And Analytical Processes
Tour of two labs:


ERLAB: This accredited routine water and wastewater facility linked to a bulk service provider demonstrates value add in decision making for the plants and accreditation. ERWAT Laboratory Services is set apart from other water testing facilities. As it offers more than just routine testing methods. . Advanced methods for the detection of organic pollutants (by gas chromatography mass spectrometry) and waterborne pathogens (by real-time polymerase chain reaction) are also available.


GARL (Golder Associates Research Laboratory): This accredited laboratory specialises in aquatic toxicity testing, dust fallout, sediment and soil toxicity testing. The increased scope of aquatic toxicity testing has allowed for increased application of the results, extending from the aquatic environment (Water Use License requirements, catchment management strategies, conceptual site models) to hazardous waste classification (GNR 635, SANS 10234, INERIS, Directive 50).
Objective
To view best practise principles for water//wastewater analysis, toxicity testing and specialised applications for research testing.
Route & Time Allocation
Depart ICC by bus to ERLAB: 8h30 – 9h30 (1hr) **
Tour of ERLAB: 9h30 – 11h30 (2 hrs).
Lunch: either packed lunch or local restaurant
Tour of GARL Lab: 14h0- 15h30 (1.5hr)
Depart to ICC: 15h30 – 16h30 (1 Hr)
Kruger National Park And Inkomati-usuthu Cma
A three-day bus tour to the following sites: sites:
Visit to Inkomati Usuthu CMA to understand the challenges of transboundary Water Cooperation and river basin management. This will include a presentation by Inkomati Usuthu CMA, Q&A session, and a visit to Kwena dam site to see how regulation of flow is achieved to meet both local and international requirements
Visit to Kruger National Park to view specific sites along the Sabie and Olifants and Crocodile rivers to view the impact of pollution on the river system. Stop over at two wastewater treatment facilities to discuss the design and monitoring and view integrated oxidation ponds, as appropriate technology for SanParks. Enjoy a night game drive through Kruger – hopefully you will see the Big Five! There is an option to extend your stay at Kruger.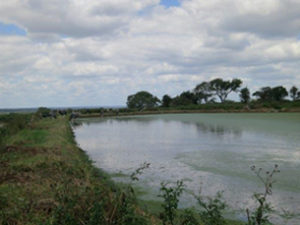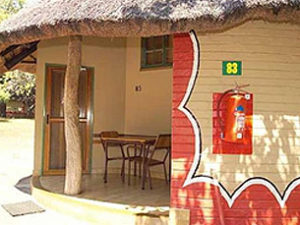 Objective
Tour a world renowned national park from the perspective of its integrated water and sanitation management and integrated river management. Also visit the Inkomati-Usutu CMA to learn about transboundary water cooperation and river basin management
Cost
Travel to and from Nelspruit
Meals:

Day 1: breakfast at Alzu – own cost, Packed lunch to be arranged, supper to be arranged
Day 2 and 3 Breakfast at Hotel in Nelspruit. All other meals and accommodation to be arranged at Skukuza Camp

Accommodation in Nelspruit
Night game drive – R450p/p
Accommodation at Skukuza Camp – R 1400 p/p/n.
Optional extra night accommodation at Skukuza camp @ R 1400p/p/n
Route & Time Allocation
Day 1:
Depart ICC by bus to Nelspruit: 8H00
Stop at Alzu for breakfast and game viewing: 10h30 – 11h00
Visit to Kwena Dam with packed lunch: 12h30 – 13h30
Visit to Inkomati-Usutu CMA offices in Nelspruit
Advanced new laboratory and analytical processes 15h00 – 16h00
General overview of the IUCMA: 30 minutes
Transboundary relations, lessons, benefits and Q&A session: 30 minutes
Accommodation: Nelspruit (to be arranged)
Day 2:
Breakfast – (to be arranged at accommodation in Nelspruit)
Depart to Skukuza
Stop at various sites along the river, the water supply system, sanitation systems, and wastewater treatment systems, including a composting site. Includes packed lunch.
Supper and stay at Skukuza Camp (arrange with Nonhlanhla)
Day 3:
Breakfast at Skukuza
Game drive
Flight from Skukuza to ORT (1hr)
Depart from ORT by bus/Gautrain to ICC, arrive 17h30
Eastern Basin Acid Mine Drainage Treatment Plant
A bus tour and site visit to the Acid Mine Drainage Water Treatment plant in Springs to view the technology and understand the challenges in treating acidic mine water contaminated with heavy metals. This plant was commissioned by TCTA with a total construction cost of R1 Billion to treat acid mine drainage in Gauteng area. TCTA was mandated by the Department of Water Affairs to implement the necessary AMD water management and treatment infrastructure and the complete project encompassed two additional treatment plants in the Randfontein Estates area (Western Basin), the ERPM south-west vertical shaft area (Central Basin).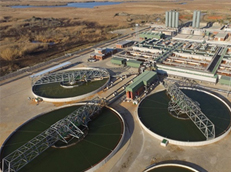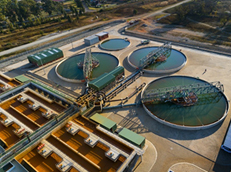 Objective
Tour to one of the largest high-density sludge (HDS) plants in the world with a capacity of 110Ml/d, to explore the technology and challenges of treating acid mine drainage.
Route & Time Allocation
Depart ICC by bus to Springs: 8h15 – 9h45
Site visit and discussion on technology and project implementation: 10h00 – 13h00
Lunch
Travel back to ICC: 13h30 – 15h00
Anglo American Emalahleni Reclamation Plant
A bus tour and site visit of the Anglo American Water Reclamation Plant located in Witbank (Emalahleni). This plant desalinates water from coal mine and supplements Emalahleni' s potable water supply by 20 Ml/d (20 – 40% of the municipal demand). The project is an exemplary of a multipurpose Public/Private Partnership in which mine water is treated and reused to supply the; local municipality with potable water. This water reuse also reduces the mine's raw water abstraction demands.
The trip will conclude with a brief stop at the Kusile Power Plant to obtain an overview of the link between water and ensuring sustainable water supply.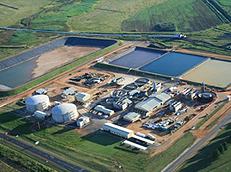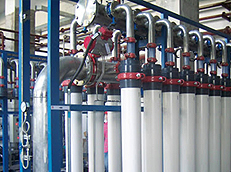 Objective
Production of potable water from mine water with engineering and environmental aspects addressed regarding the mine water decant pollution and how to address water resource scarcity. The tour further highlights the significance of the food-energy-water continuum through exploration of the Kusile Power Station and the role of water in safeguarding sustainable energy supply
Cost
Travel
Note: The Anglo site can take a maximum of 40 people
Delegates to bring safety vests, hard hats and boots. Anglo has some PPE for back-up, emergency measures but does not have enough for 40 delegates.
Route & Time Allocation
Delegate arrival at ICC – 07:45
Depart ICC by bus and travel to Anglo American Emalahleni Water Reclamation Plant: 08:00 – 09:30
Site induction at Reclamation plant on arrival: 09:35 – 09:55
Presentation on key aspects of the plant, conceptualisation of the PPP, lessons learnt and Q & A session – 10:00 – 11:30
A walk around the plant to see how it is operated – 11:40 – 12:30
Lunch (catering to be provided by Anglo American free of charge) – 12:30 – 13:30
Depart Reclamation plant and travel to Kusile Power Station – 13:35 – 14:10
Bus tour of the key features of the Kusile Power Station – 14:15 – 15:15
Return to ICC – 15:30 – 17:00
*The schedule accommodates some comfort breaks for the delegates and 5 minute intervals for gathering delegates at key stops
Vaal Dam And Boschkop Pump Station**
Bus tour to the Vaal Dam and the Boschkop Pump Station. This Bus tour will include a visit to the area office on site, where a briefing will be done on the history of the Vaal Dam (it's planning, construction, the subsequent raising of the dam wall, the water resources management and use of the dam. This will be followed by a site visit to the dam wall to experience the magnitude of the civil engineering structure, including an operations display to inform the mechanical and electrical engineering operations. This dam which is central to the Integrated Vaal River System, bears testament to the careful planning, management and multi sector cooperation that is required to sustain a critical resource of this nature, and weather the challenges of climate change including droughts and floods.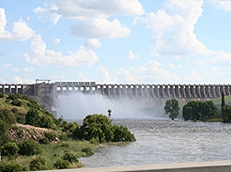 Objective
To view and explore the complexities of the Integrated Vaal River System management, as an example of integrated water resource management. This will provide delegates with the opportunity to experience the operationalisation of water resources on the largest scale in South Africa.
Cost
Delegate packed lunch at the Dam Wall and travel
Route & Time Allocation
Delegate arrival at ICC – 07:45
Depart ICC by bus and travel to Vaal Dam via N1 and R59 towards Deneysville – 08:00 – 10:00
Delegate site induction – 10:05 – 10:25
Presentation on Integrated Vaal River System and Q&A session – 10:25 – 11:25
Walk around the Vaal Dam Wall – 11:25 – 12:25
Packed Lunch at the dam wall – 12:30 – 13:30
Depart Vaal Dam and travel to Boschkop Pump station – 13:35 – 13:55
Site induction 14:00 – 14:10
Tour of the Boschkop Pump Station – 14:10 – 14:40
Depart Boschkop Pump Station and travel to ICC – 14:50 – 16:50